There are software platforms of all kinds out there and they're each unique, focusing on providing specific solutions. At Details Flowers, we get this question all the time: How is Details different than other floral software platforms on the market? What about the Details Flowers solution sets it apart from the pack? We believe there are some key qualities about our platform that define us and our mission, so let's break it down!
Details is Tailored to Florists
Unlike many other softwares out there, Details was designed and created by florists, with florists in mind. Every feature in Details is specifically tailored to help floral businesses do more and earn more. From our cost management tools to the beautiful proposals, we built the platform from top to bottom with a florist's eye. It's truly our mission to help the floral industry flourish and that starts with the people on the front lines.
Details is Intuitive
While there's usually always some learning curve when getting the hang of a new process, according to some of our users who have previously used other solutions, Details is the most intuitive system on the market!
Here are some of the comments we've received:
"There is a little learning curve but 20 mins playing with the software and you will be hooked!" -Hannah G.
"The software is so easy to use and if you ever have a problem, you call and within two rings they answer and have the best customer service I have ever experienced!" - Francis Christina D.
"The software is very easy to catch on to and I have had an amazing response from my couples and the planners I work with." - Cassie O.
Easy to use; My proposals look professional when sending to clients. Saves me a lot of time. My training has been superb." - Andrea M.
Our Proposals Have the 'Wow' Factor
Yes, other softwares can perform similar tasks, but there's no platform on the market that produces such stunning proposals, which is absolutely key to getting that proposal "signed, sealed, delivered!" Not only are the proposals visually superior, but the process of creating them is streamlined in Details; your account comes with three lovely variations, and our marketplace has many more available!
Here is a sample of one of our proposal templates - you can create something like this your very first day with Details Flowers: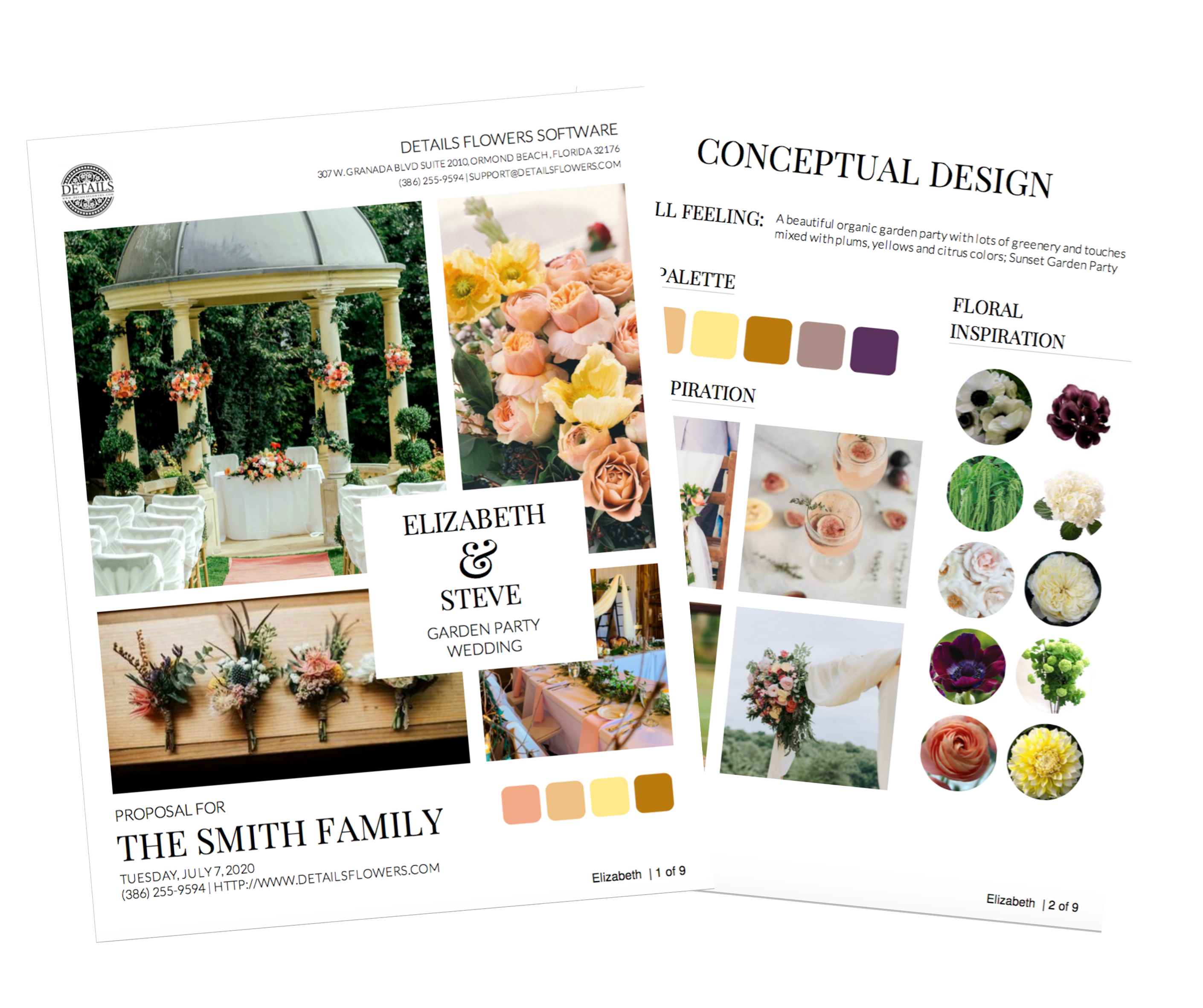 "The very first client that received my presentation LOVED it and immediately booked! It definitely raised the bar on how I present designs." -Nicole J.

Details Flowers Software is Made in America
We believe in supporting community. That's why we build and support our software right here at home in the United States. It's why we do things like lobby Congress on behalf of florists all over America each year with SAF, create jobs that support our local economy, and encourage all of our users to price their work competitively so they can boost their own localities.
We are proud of our commitment to our local community and greater floral community.
Everyone gets Everything!
Regardless of which subscription you choose, ALL features of Details Flowers Software are always INCLUDED! Even as we continue to add new features, once you lock in a rate, you will keep that rate for the lifetime of your account. We never sell our platform in pieces; nothing is à la carte. Rest assured knowing that even as our platform grows, your budget won't have to!
Return on Investment
Currently, our best rate comes in at $100/month (billed annually), which is a drop in the bucket compared to what you will save in productivity and what you will earn with our beautiful proposals and pricing tools. It's just one more thing that sets us apart!

So, what makes us different? Our commitment to florists and event designers everywhere. Our platform is built, priced, and supported with floral professionals in mind. It's truly our mission to foster growth in the floral industry, and we keep that goal in mind with every decision we make. The testimonial comments in this blog are from real florists for whom Details is making all the difference!
If you're not loving Details already, we hope you'll give it a try to see the difference it can make for your business!