Announcing the launch of Details University! Class is now in session here at the Details Flowers office.
Details University is here to help guide you through the process of learning how to use Details Flowers Software. We understand that learning something new while meeting with clients and planning events is no easy task. That's why we have created four classes to help you out.
Each class was designed to focus on related areas of the Software. For example, our Orientation class is geared toward setting up your company information and setting your defaults, which are features that will help you earn more! In other words, definitely something you don't want to miss out on! Keep reading to discover what each class has to offer!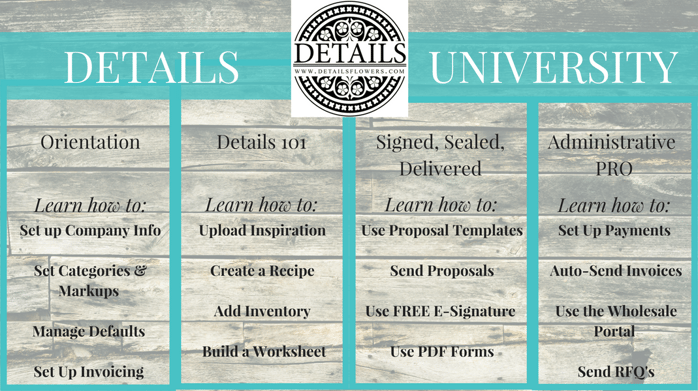 Course 1: Orientation
This class is designed to set you up for success! We will go through settings to show you how to update your company information, set your defaults (such as labor, payment, and contracts), and share how using our invoicing system, powered through Stripe, can make your life so easy!
Course 2: Details 101
This class will feed your creative side! We will focus on learning how to use the Design Board and how it works in unison with the Worksheet. The fun happens when we'll explore how to build recipes that you can use again, and again! Did you know that you can add your own inventory to the Resource Galleries? Well, we will go over that, too!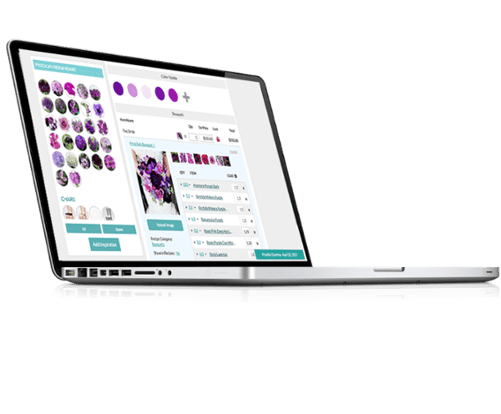 Course 3: Signed, Sealed, Delivered
Proposal templates, E-Signature, and a Recipe PDF? It seems like a lot, but you will quickly learn that these invaluable tools are simple to master and use. This class is a follow up from Details 101. We will take the worksheet that we created and put it to use in our Proposal Templates. We will view what your clients see when you send them a proposal to E-Sign. The class will finish with a brief tour of our Executive, Recipe, and Delivery PDF forms.
Course 4: Administrative PRO
Arguably, one of the largest benefits of Details Flowers Software is how much time you will save! Imagine no longer having to sort and file receipts, invoices, or even have to meet with a client for payment! With Details Flowers, you can collect payment while you sleep...seriously! After reviewing the Payments and Invoicing section on Details Flowers, we will explore our Wholesale Portal that makes your RFQs a breeze!
We'll see you in class!
Always Blooming,
-The Details Flowers Team