"You cannot stand amid this cathartic jubilee without absorbing the energy that abounds in the grasses, the flowers, the birds and the insects. You cannot help but feel rejuvenated as a cool breeze momentarily cuts the summer heat, whispering of the fall to come." Wildflower Meadow WCT on 12.13.16
Meet our Featured Florist Beth LeonGuerrero
She grew up in Charleston and has always had a deep love of flowers. She was THAT little girl...picking flowers from the neighbor's yard and putting them everywhere — in old perfume bottles, soda bottles and just about anything that would hold water. From picking flowers as a young girl, to running a blossoming business - Beth has lived, breathed, appreciated and brought the "wild" flowers into her life and designs; she was even asked once if she was on the side of the road chopping some trees! Most certainly it was Beth - a wildflower at heart!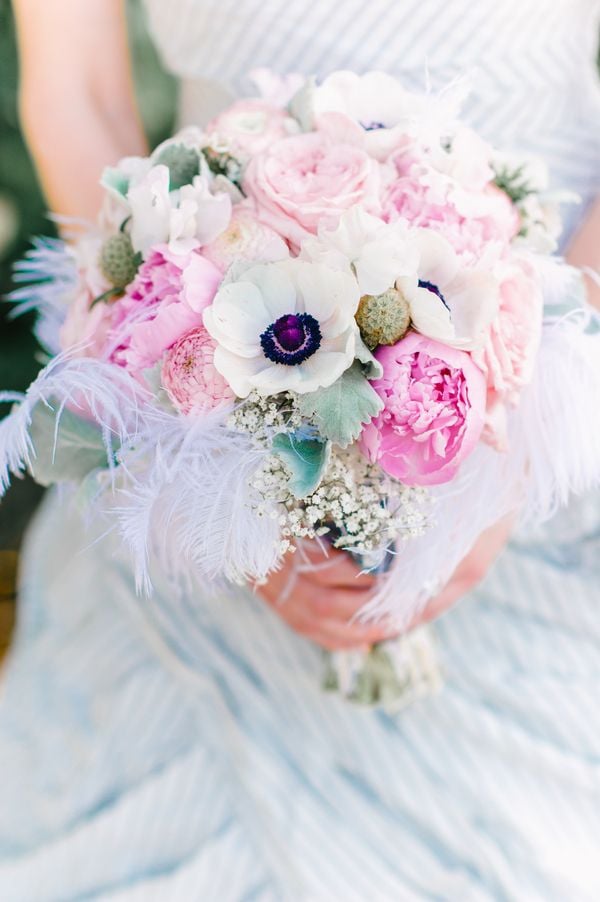 What is your business name and how did you come up with it?
We had several events before we even had a name. We never actually intended to start this business, we were just overwhelmed with brides that had tracked us down. We struggled with a name, my family said that the name WildFlowers suited my personality and my proclivity to forage for the perfect greens, blooms or branches (hence the tree trampling!). So we decided on WildFlowers and added the Inc. to represent the family. So there we had it, WildFlowers Inc.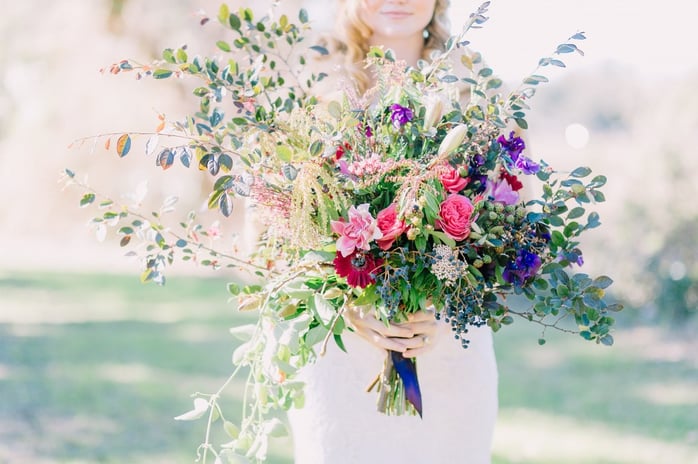 What do you love most about your city and events that you create?
Charleston is an extraordinarily popular wedding destination and rightfully so with it's location right outside of Summerville, which is home. What I love most is the beauty and diversity of all the wedding venues. There's a multitude of gorgeous plantations with centuries old oaks draped in Spanish moss and lush gardens year round. There are so many waterfront properties from the beach to the rivers. And we have more than our share of stately historic homes! Additionally we are now seeing the restoration of cool venues which are located in industrial areas with very chic 19th century elements. Brick walls, huge doors, original beams and flooring infused with open air and expansive windows. Charleston truly has any style you are desiring and some you wouldn't even think of until you see it.
What do you love most about the Wedding Industry?
Weddings and events can be stressful. You are at the mercy of the elements with perishable product. I have gotten very creative out of necessity. I love the rush off doing everything possible to bring a client's vision to life and meet or exceed their expectations. We love the time we spend with our couples and are honored to be such a vital part of their day. Couples have to trust that I care about the end results as much as they do, if not more! Details is instrumental in bringing the vision right to the bride while allowing the creative processes to take place. Such a helpful tool.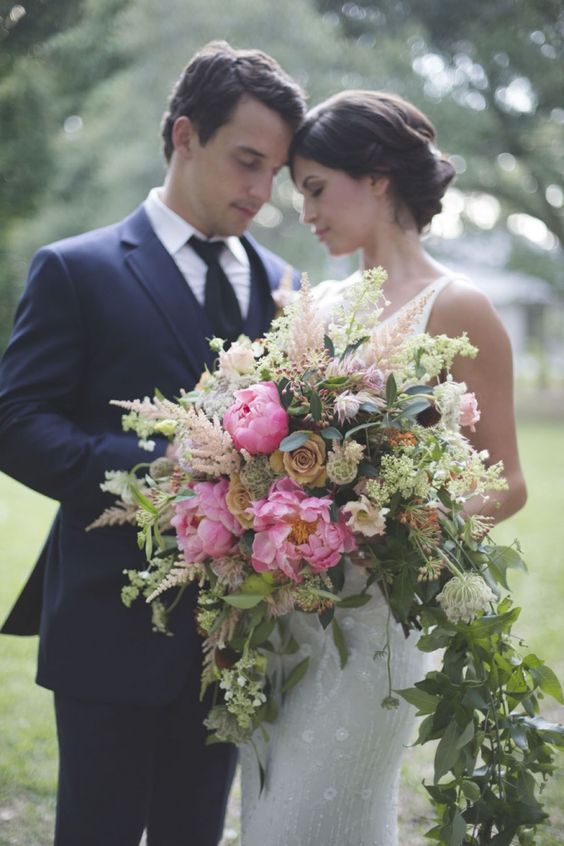 What do you dislike about the floral industry?
No matter how much preparation you employ there are so many things that are dependent on elements beyond your control. Working with perishable products has an added level of stress.
What are your biggest daily challenges and how do you overcome them?
The biggest challenge is merging both sides of my brain so that they work together! Wild, free-loving, happy and creative. But, I have to pay bills and taxes and stay organized. This is the most difficult and hardest for me everyday. I overcome these weaknesses by recognizing them. I am constantly continuing by education in both design and in running the business. I ask for assistance in the areas where I do not excel so that I can remain focused on the parts of the business that are fulfilling. A little bi-polar, I can go from bitch boss to happy boss in one quick moment! I have found transparency, the help of my family and team and focusing on the positive allows me to live my life to the fullest. With my husband, Vince, our daughter Torre, our son Gabe and grandson Landon we have so much expertise and help, we love it! We miss our son Vincent who is currently in the Navy but when he's visiting he always helps out!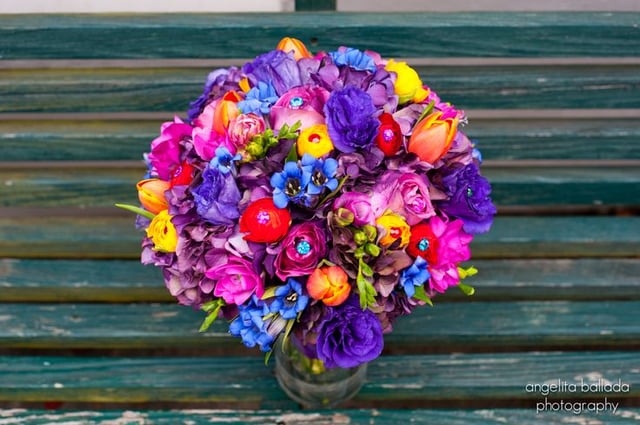 What is your favorite design story and why?
It was recently and it was so unexpected! I had a styled shoot to create with a box of some mixed flowers that were sent to me. I started by hanging a floral backdrop from an oak tree of mosses and green fern and then I walked away to work on something else. When I came back to the design, I decided to nestle some purple and green cabbages, and then continued with the flowers from the box. It was so fresh and unexpected and unplanned. It was a WOW factor, designed in the moment…my favorite!! I should admit I had no idea where I was going with this but I know that I had to make it happen. It was such an experience… an unplanned work of beauty!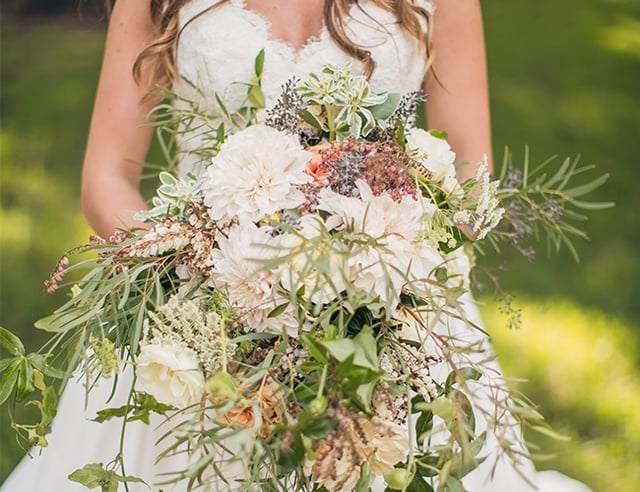 What is your biggest success when it comes to weddings?
Where I am in the industry today! When I started out 9 years ago I could not have anticipated this level of success. I never dreamed I would be in an article that touted me as one of the Top 5 wedding florists. The best part is it's something I thoroughly enjoy. With my family working together it brings great joy for all of us! It's been an exciting adventure.
What tips do you have to share with other wedding floral designers?
Not to undersell themselves. Take all the business that comes your way, but do not set yourself up for failure by being unable to say no or to charge less for something because that's what the budget requires. Details is an extremely helpful tool when dealing with clients. Use it!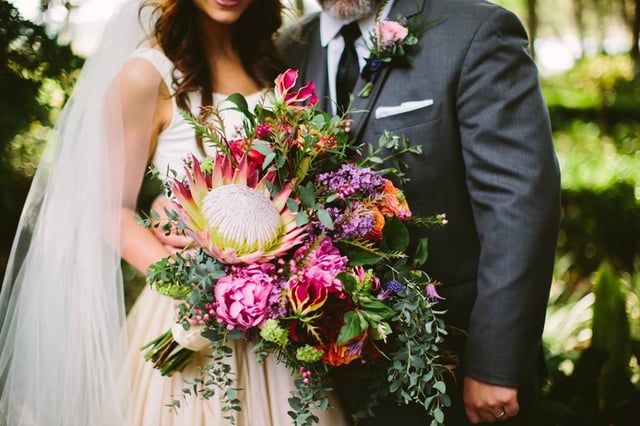 What do you love most about your floral importers and what do you value most about them?
None are perfect! We enjoy utilizing Mayesh right now, local farms during particular times of the year. We also have great relationships with Hilverda De Boer out of Holland, a great experience as I have a representative that was assigned to me and I just go on-line and shop. If I order before 2:00 a.m. I have fresh & good product by the next day!
What is your biggest business motivator?
All the appreciation and thanks from our clients. The thank you notes and cards, the reviews, they all keep me going! On the day of a wedding - for me - I can't breathe until I know they LOVED their flowers. That's what it's all about!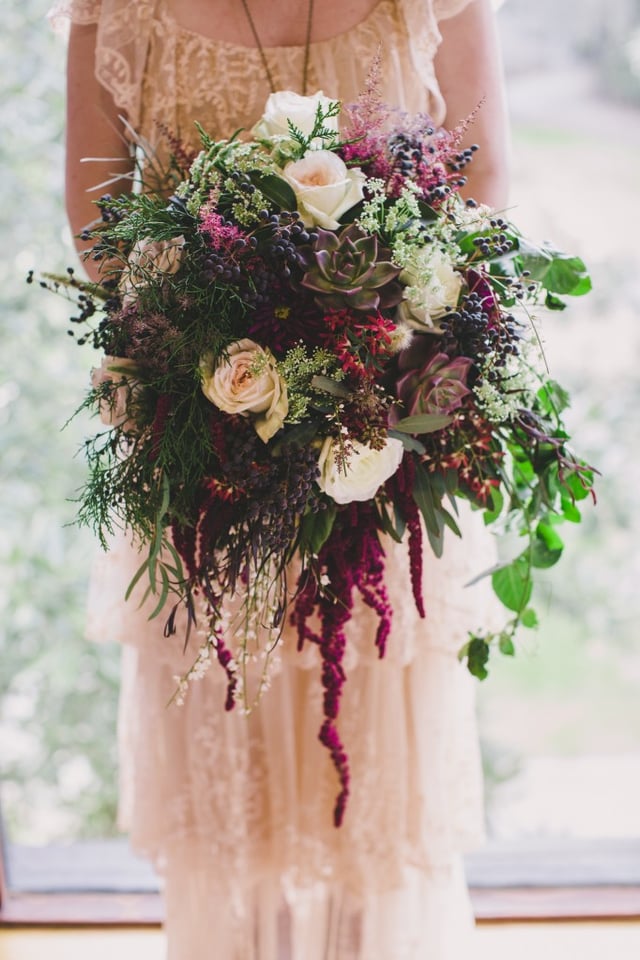 A couple of things - Being able to utilize the blooms and inspiration board to communicate the Bride's vision. My proposals are professional. We understand vision - it's what gets them excited - with Details I can actually show them things that they never considered! It allows us build a relationship with the client and there's a sense of trust that is created. It has made me accountable, I'm a recipe girl and I know the cost of goods, Details helps me to charge appropriately to make a profit! Then there's the ease of ordering product too!
I just have to share that the first time I used Details I was in "omg" mode. I was pushing margins, pricing, the images, the entire system - I did it all and when it was all done - I had actually made a profit! The best part was it was a wonderful event and I held the bottom line!
Where do you see your business in 10 years?
There's so much going on today - everyday! My husband and I are all about growth. We locally get together with our local Score Business Workshops. We learn about growth and how to accomplish it! We always work together and have the goal to continue to work together with our family. We may buy a new business and it maybe a venue. WOW! Thinking about the future - LIVE FOR THE MOMENT!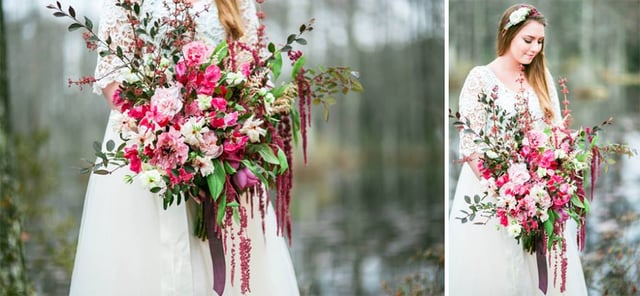 We love your wild, free, and passionate spirit, Beth! To see more gorgeous designs, visit her website WildFlowers, Inc.. We can't thank you enough for sharing your story and bringing inspiration to aspiring florists everywhere!
We'd love to chat! Join us for some great conversations!
We love watching our florists Bloom & Grow!