As we continue to develop our flower software to help our florists with their proposals, we are often asked questions about the software that are great for ALL users! We will be compiling these frequently asked quesitons in a series of blog posts to help our users better understand some of the basic features behind the functuality of Details Flowers. If you have a question, we'd love to hear it! We would love to get those answers for you and help more users with the same or similar questions!
This first question comes from Australian floral designer Amy Park from Fox and Rabbit. Thank you Amy!
Q. Why is the contract when starting have a fee already populated? Why is this happening?
Hi Corrine & Linda,
Just a quick question about creating a new worksheet for a client - there is a sum of $1518.00 that is automatically added before any florals have been entered & the quoted sum is incorrect at the end as we cannot remove that amount.
I have attached a screenshot for your reference. Why is this happening?
Warm Regards
--
Amy Park
Chief Wedding Genius
Amy's Screenshot for reference: (first starting the event for Amy)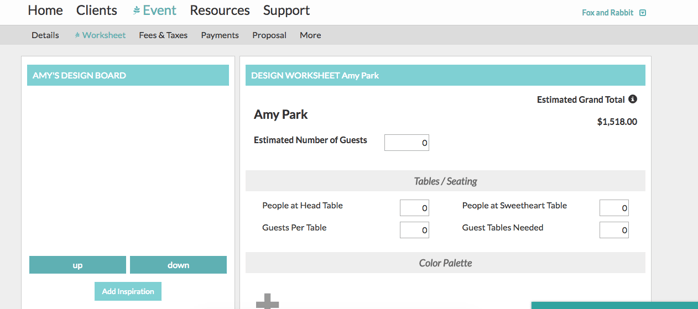 A. Default Labor Settings!
Dear Amy,
Thank you for your question! An amount is pre-populated because of a setting in your "Default Labor Settings" located within your COMPANY SETTINGS.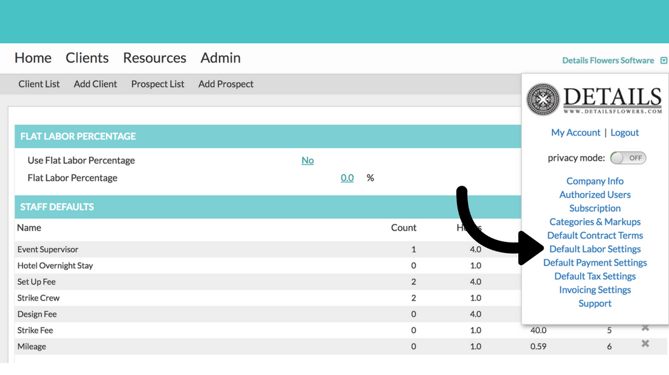 In your "Default Labor Settings" section, you currently have 1 of the Staff Defaults calculating for each contract. See the picture below-- attached-- Notice the 'Counts' set to 1 each. This means that for everytime you begin a new contract you would like 1 of each of these 'Staff Defaults' added to your event total.
Amy's Company Settings - Labor Defaults:

How to resolve: If you update this count to '0' (zero)- none of these preset values would show on your future flower contracts-- because you are stating that you would like '0' to start each contract. This is a default preset that you can customize.
Personally, our event company will likely have a minimum of 3 people for each event at 4 hours at $35 hourly rate. Our labor set up fee is $420 minimum to start any contract.
**It is a default intended for you to make sure you don't forget to add in a labor fee.**
You can adjust this per contract by scrolling to the bottom of the page to see the Event Staff for this particular event and setting those to 0 will also 0 out the total. And in Amy's case, she also had 1 Groom's Boutonierre at $45 included in her $1518.00 (also included sales tax). Here are some screenshots to show this change and notice the total amount is now at $0.00 to begin at zero.
Amy's Bottom of Worksheet Before: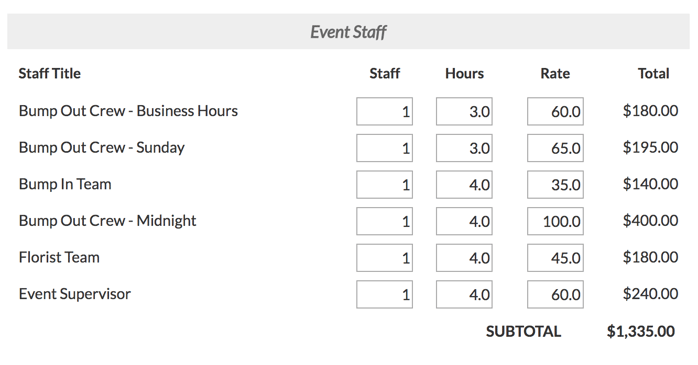 Amy's Bottom of Worksheet After adjusted: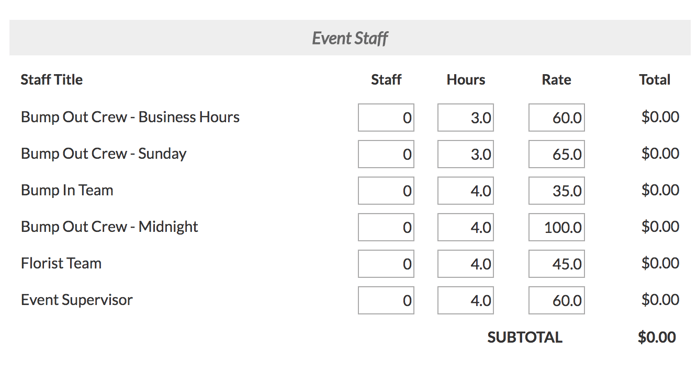 If you have any further questions about 'Default Labor Settings' or any other questions to the software, please send your questions to us at
corrine@detailsflowers.com
.