Now is the time to take a moment and just enjoy a lovely conversation with the witty and delightful owner/designer of The Pearl Petal. With a passionate mission to reach people and truly desirous of the devotion and virtues of relationships, Stephanie O'Quin (yes that's only one "n") is a remarkable lady! Find out how a trip to Italy after college and spending time with a special Italian Wedding Designer, followed by some USA floral greats led her to the awesome decision to take the PLUNGE!! Hence how she found the pearl - The Pearl Petal.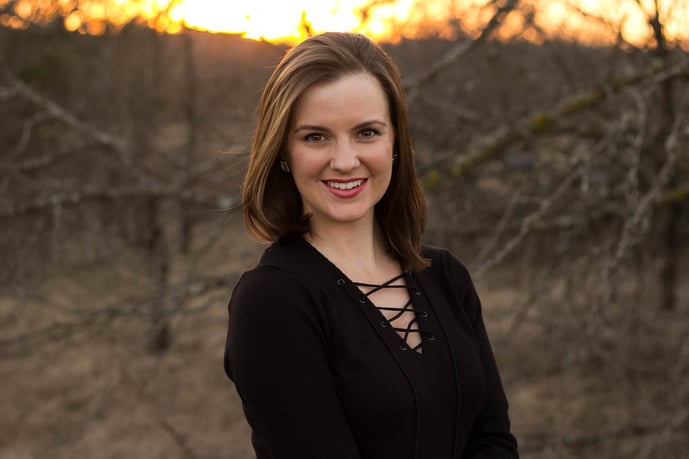 Rose Webb Photography
Let's meet Stephanie O'Quin!
I started working to create The Pearl Petal in 2013 with the mission to reach people who are in need of beautiful floral for any event!
Here is a little history of my floral journey: my education in and passion for floral design began in high school and throughout college; I had the opportunity to work with event committees which helped me hone my creative destiny of floral design. After graduating college I moved to Italy for a short time where I met and grew under the instruction of Italian Wedding Designer, Martina Trombacco. Upon arrival back to the States, I ventured into the vast world of floras and foliage! I had the opportunity to work with, design for and learn from professional and talented companies such as Dr. Delphinium, InteriorScape and GRO Design.
Now, The Pearl Petal is a flourishing company full of professionalism and devotion.
"There are always flowers for those who want to see them" - Henry Matisse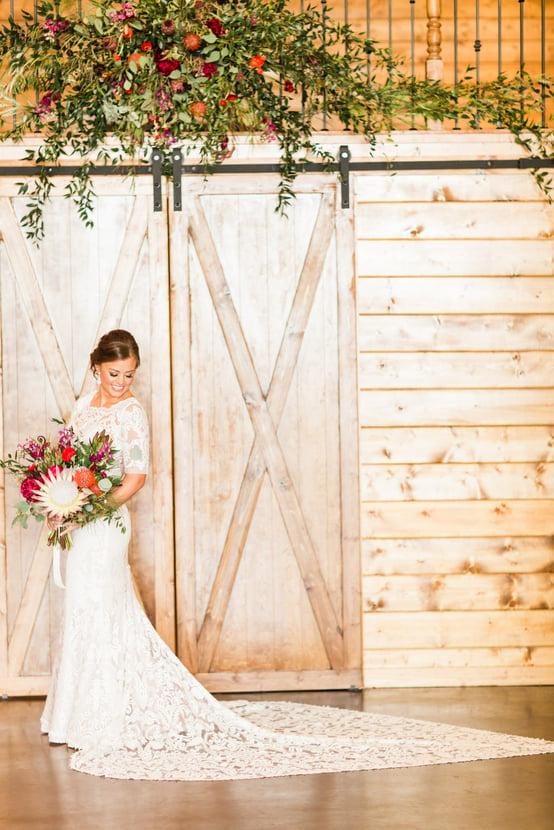 The Tarnos Photography
What is your business name and how did you come up with it?
After I made the decision to take the plunge as a full-time entrepreneur and start my own floral design company, I was looking for a way to add the sound of class to a worldwide profession. I wanted the name of my business to have a ring to it and stand out among the rest. The definition of a pearl is "a precious thing; the finest example of something." That was it! The "finest example" of floral designs! That's what I wanted to aspire to be and grow my company to represent! This business, this new endeavor in life was my "precious thing!" I've poured so much of myself into it and done so with a name that people can remember easily.
What do you love most about your city and events that you create?
I'm in the massive Dallas, Fort Worth area and that's just what I love about it, it's MASSIVE! There are so many fantastic brides, vendors, venues and morals here! I tell everyone this, but in my industry, in one of the biggest areas in the nation for weddings, my floral vendor "competitors" are actually my best resources & friends! There's not a mean or cut-throat feel in this area at all! We are a team...a team who helps one another succeed by almost any means! I cannot tell you how many fantastic fellow floral vendors of mine have helped me out, and I hope that's what I have done for them, been a friend lending a helping hand! So, in short, living in Dallas is amazing, having a massive number of wonderful brides is a blessing, and working with so many talented venues & vendors is a dream, but what I love MOST are my fellow floral vendors! These fantastic people who GROW by lifting each other up & helping one another GROW too!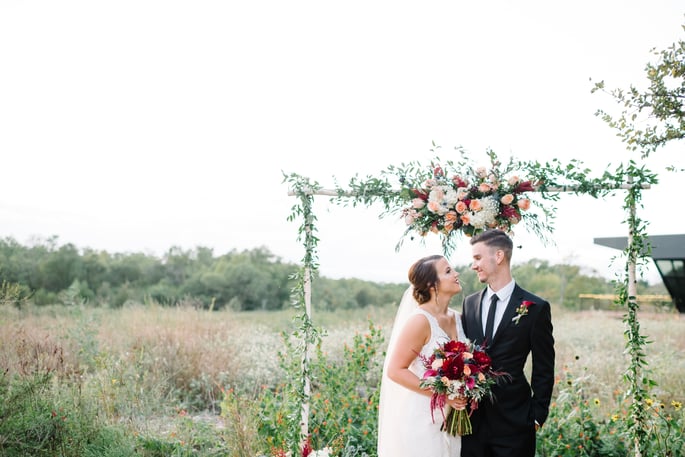 Karyn Johnson Photography
What do you love most about the Wedding Industry?
The wedding industry is an all-in and always on point industry. What I mean by that is, you have to give every single event your 100%, every time! It is ALWAYS someone's "Best Day Ever" & that is not something to be taken lightly. I love this truth because it keeps me passionate. Every time I have the honor of working for a bride, I remember how special my day was & that motivates me to work hard along with my team to execute the perfect outcome of each bride's floral visions & wants! It is actually a dream to help others' dreams come to life!
What do you dislike about the Wedding Industry?
To be honest, this is MY industry. It's like your child. It's hard to showcase the faults of someone you love very much, but with striving to be transparent here, I could sum up my dislikes in two words: unrealistic expectations. This is hard because as passionate as I am, and as hard as The Pearl Petal team works to bring each vision to life, we are still not magicians. It is so hard to tell a bride that I cannot make a bubble bowl vase full of flowers float throughout the tree line with no string. You may laugh but, this is a real request people make. I dislike this aspect about the industry, though, for reasons you may not initially think about. I dislike it because it lets my brides down. No matter how lofty the expectation is when I let my bride know I don't believe it is something we can take on and execute at 100% satisfaction, it is disappointing for them & ultimately leads to a snippet of their perfect vision being taken away. It's hard to see and it's very hard to be the person that says no. However, I have to say each bride has always offered grace in these situations, and it is a joy to work through the trials to achieve a realistic and still beautiful outcome!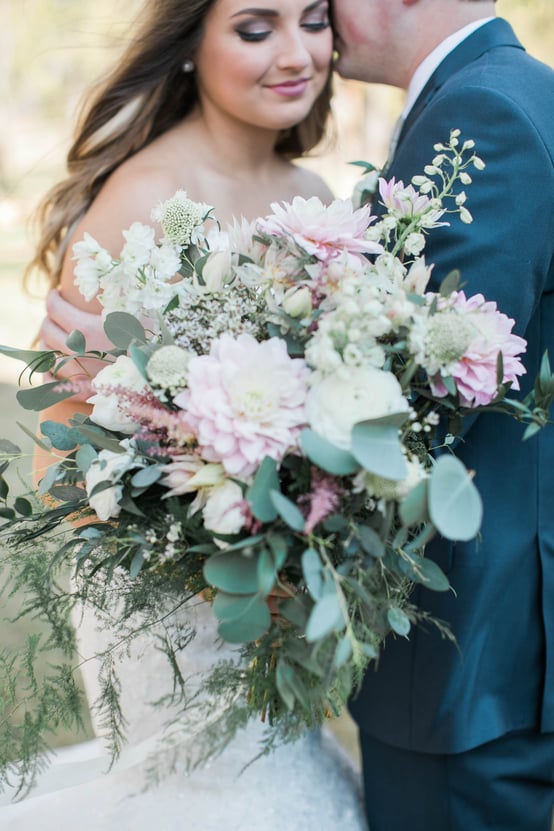 Ivy & Twine Photography
What are your biggest daily challenges and how do you overcome them?
My biggest daily challenges are computer logistics. No questions asked. As a floral designer, God made me a "hands on, get out there, be in nature" kind of person. Sitting behind a computer to answer emails, inquiry responses, taxes, quotes, orders, accounting, filing—ugh enough! You get the picture. That's the hard part for me. I did not realize going into business how much self-discipline & organization you have to have to run a business of any kind. Thankfully over the years I've had the privilege of learning & working with people who have helped me not only hone my skills in this area, but help me establish a routine. I can now say I enjoy my structured schedule and routine on this front and the feeling of being 100% caught up with my computer tasks are nice…until the next day that is. HAHA!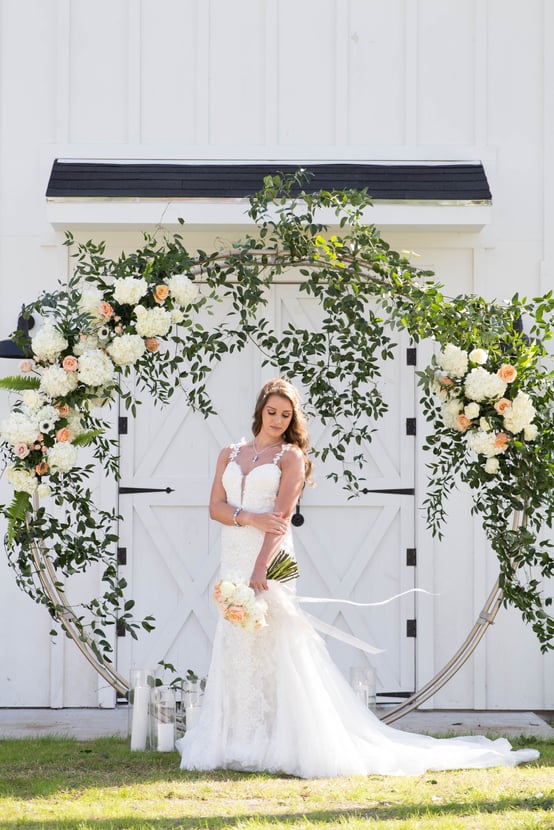 Cait Lauren Photography
Featured on The Perfect Palette
What is your favorite design story and why?
This is a hard one for me, each and every event we have been a part of is always "MY NEW FAVORITE." I often tell my brides that too! It is the truth though! Each event that comes to life is like the birth of a new creation, well, it is the birth of a new creation! As I look back, I think the neatest design story though is not one of my exquisite brides. It is actually my own. The story of how The Pearl Petal came to be is my most favorite of all, selfish I know! Truly though, as I look back on my journey to now, it is incredible for me to see how perfectly things fell into place, how each person I worked with grew me to my next stepping stone and ultimately how this wedding industry not only welcomed me with open arms, but helped me become The Pearl Petal in every aspect. It's truly just miraculous to revel in the joy of standing where I am today!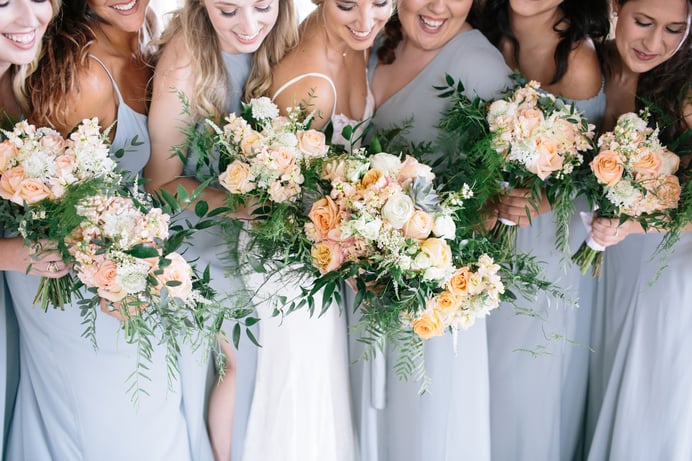 Markit Photography
What tips do you have to share with other wedding floral designers?
Be Consistent, Be Kind and Be You! When the going gets tough, when the bookings are low, when the client's vision is different from yours, choose kindness, consistency, and authenticity. Your floral skills are already in the top 1% of the world's and that's why you are where you are! But, your heart, that is the biggest business grower. Work on your heart every day to be receptive, to be giving and to be kind to yourself. You really are doing great!
What do you love most about your floral importers and what do you value most about them?
What's not to love? These people are actually who make the industry go round! The beautiful product we receive is a testament to how passionate these people are about their jobs and how important they deem us as their clients to be. I tell my importers, I commonly call my "reps", all the time how grateful I am for everything they do for us and the amount of effort they put forth to make sure my company keeps receiving the best possible product! It is a joy to work with people who year-round "save the day" & "make it happen" no matter what!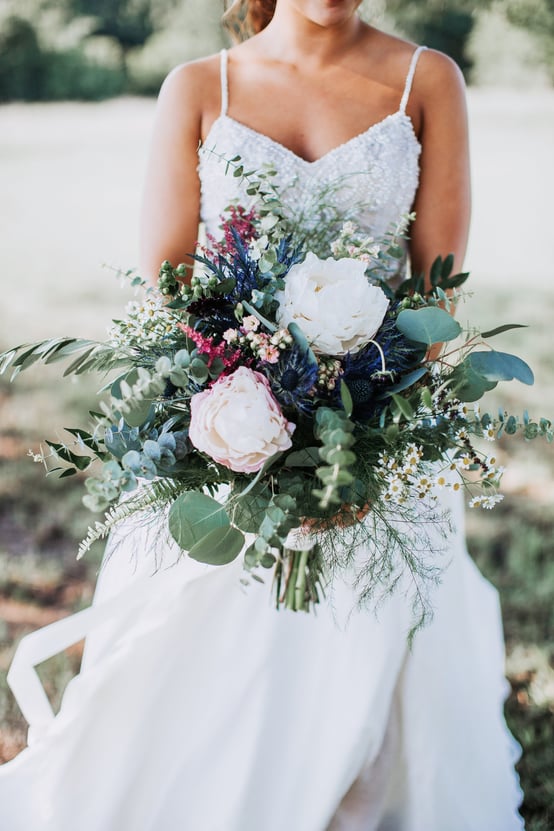 Sadi Brooke Photography
What is your biggest business motivator?
Being empowered by fellow entrepreneur women! Let me just say, men you are amazing and rock it all the time, but this little blurb here is for the ladies. This is my biggest motivation because I am a woman. A woman who took a leap of faith to grow a business from a lofty dream to a real-life job that helps support my family and life! It has been hard, sometimes, and it has been long but the women who have succeeded alongside me and helped to guide me through the years, I will forever be thankful for! It is so empowering to me to see other business women pursuing their dreams and working hard for something that they feel so passionately about, that they commit their lives 100% to its success! WOW! I love being a fellow entrepreneur of these incredible women and believe so strongly that we grow by growing others! Keep going all you strong fearless women. You are more impactful than you could ever know!
Details improves more than just my bottom line! Details has improved so many facets of my business that I now feel more "top of the line" than ever before! This software and these people have aided me to be more organized and more time efficient. From the quotes, recipes, deliveries, ordering, collecting payments and so much more. The seamlessness of this software has enabled me to grow my business along with being more profitable than ever before! I love Details and feel so honored to be a part of this incredible team! I just can't believe I was lucky enough to find them when I did. I can hardly wait to "GROW TOGETHER" in all the years to come!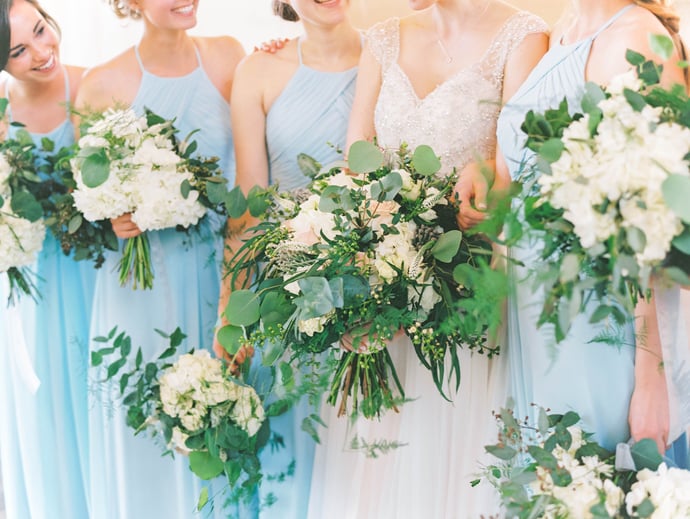 Holly Grace Photography
Where do you see your business in 10 years?
Is it unambitious to say…I don't know? I used to be one of those very well-spoken college grads who had the exact right answer to this question. Now, many years later and lots of life in-between, I can look back and say I am THRILLED that I am not where I saw myself being 10 years ago! I think that's kind of the point, to grow wherever you are called, to embrace life however it comes, and to make the most of every opportunity, whatever it may be! I do believe flowers will always be a part of my life and my hopes for The Pearl Petal is to be a blooming company with fantastic passion always! I can't wait to see where The Pearl Petal and our team's lives will be in 10 years but, then again, I can. There is so much joy left to be found along the way and what an exciting story to watch unfold!"
Want to see more? Visit these sites!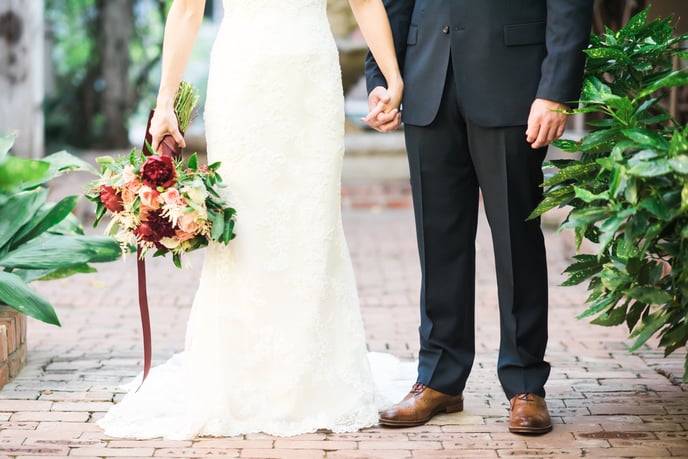 Andrea Elizabeth Photography

We LOVE watching our florists bloom and grow! Thank you for sharing your story with us, Stephanie. Your joy, kindness, and optimism is why we love the floral community. The world is your oyster...and you're the pearl! It could not be more perfect!
Until next time,
--The Details Flowers Team
Editor's note: Thank you to Sweet Memory Photography for the featured image!