Meet our Featured Florist Candice Howard from Duchess Florals Design Studio.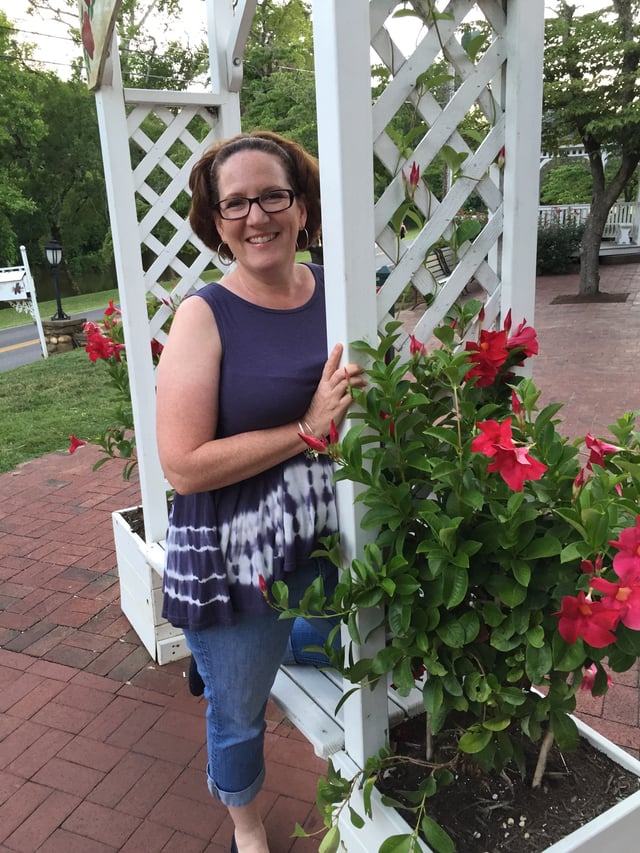 What is your business name and how did you come up with it?
We are Duchess Florals Design Studio! Our name stems (pun intended) actually from my husband's nickname for me - "The Duchess"! When I was looking for a name I wanted there to be a meaning, not just a generic name! I spent a long time wracking my brain and finally it came to me: Duchess Florals it had a rich, regal feel for our business and adding that we are a Design Studio sets the scene for our business.
What do you love most about your city and events that you create?
When we moved to North Brunswick, New Jersey in 1989, the most important thing I wanted to do was establish strong roots. As a child, I had always moved around and once my daughter was born I wanted a place for her to stay throughout her entire educational career; North Brunswick offered that possibility! Many years have passed and I still feel like I could stay here forever although I couldn't tell you why! My husband wants to move and I've been dragging my feet...I don't want to move until my daughter graduates! Perhaps one good reason is because my shop is only 3 minutes from my house! I have to add how absolutely cute it is; all stone and filled with beautiful light. Needless to say, if we happened to move - we would be further away from my perfect shop!
What do you love most about the Wedding Industry?
For me, it's really about the people! I love taking the vision from my couples and making it into a reality. A lot of times they don't have a clear vision; just bits and pieces. My strength is making a cohesive design from their puzzle pieces. I love flowers and am simply in love with them. I don't think of people or flowers as a commodity! For me, my clients always come first - and sometimes I think I may never be a huge success, but if my clients are happy and I am working with flowers, that spells success to me! Because my clients are so special I committed to never more than one wedding a weekend because I want to give them each my absolute best!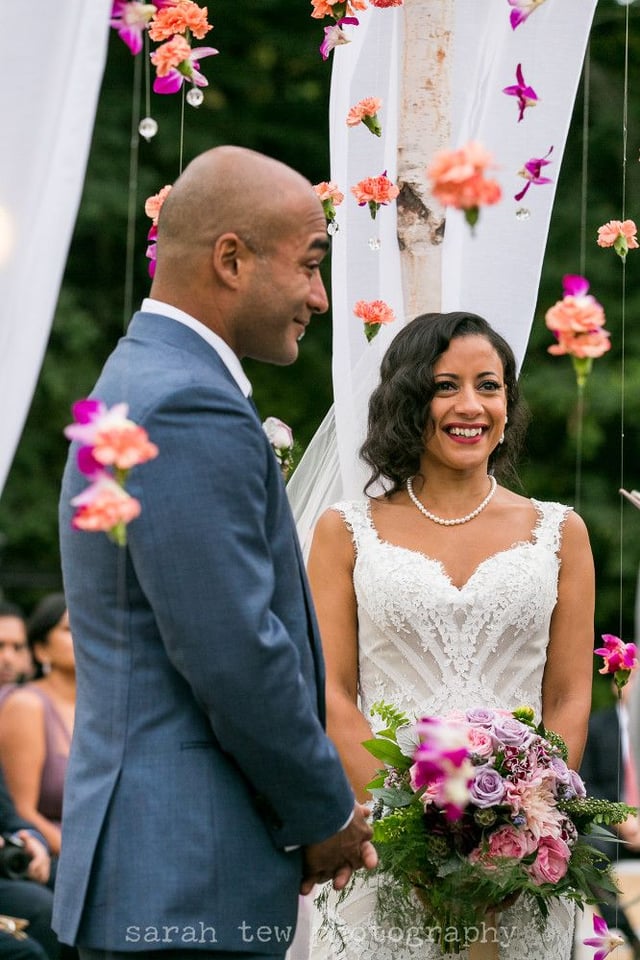 What are your biggest daily challenges and how do you overcome them?
Social media! It's a huge challenge! As much as I would like to work on it, there is just not enough time in the day. At one point, I started using Instagram now there is the Story, and that is so tricky! There is always new social media features coming out and although I know I should be learning them all - I love the people and the flowers more!
What is your favorite design story and why?
How about a wedding disaster? Well, almost disaster! I started Duchess Florals Design Studio in 2014 and the wedding was August 2015. The event included 20 tables for designed centerpieces and the event was located in Staten Island! I always think to myself, "What were you thinking???"! I never heard the answer! Those 20 centerpieces I designed had tons and tons of moving parts and I was extremely inexperienced in logistics. Of course, the van to pick up all of the centerpieces never came and we were fortunate enought to find a van for transporting - but it had no cold storage. My husband threw dry ice into boxes! It took us two hours to get everything up to the 9th floor, once we got into Staten Island. At this point in the day I panicked...all the hydrangea centerpieces were brown around the bottom due to the dry ice! So as any good designer would do I trimmed and trimmed and trimmed!! Not everything made it onto the tables, not that anyone would have known. I wrote to the bride and groom after just to let them know what had actually happened. I let them know I would refund them, and then I never heard from them! So about a month later the bride called me and told me everything was phenomenal and they would have never even known that there was a problem! She's the bride that wrote my best review, EVER! We call it "The Pria" wedding and everything we do since then is compared to that wedding! I definitely learned I need to be realistic about staffing and a lot of other valuable experience with that event. Even my 19 year old daughter, so mature for her age, said mom "you didn't have enough staff!" She was right! It was such a defining event for me that I now look at my career using these defining moments: BPW (Before Pria Wedding and the APW After the Pria Wedding) to compare where I'm at and what I'm doing. It absolutely took me to the next level!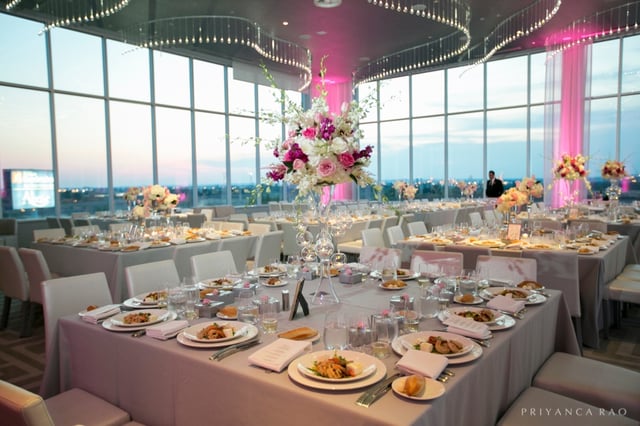 The infamous "Pria Wedding"
What tips do you have to share with other wedding floral designers?
1) Always use a recipe! It's important that you make sure that you are not ordering too much nor too little! Details Flowers really helps control costs and helps designers know what they are going to be using to build the design!
2) I think you need to be super organized! I create a file for every client. I think having the most information possible is key. You always double check and make sure there are no mistakes, anywhere! I also have a master packing list that I use every time to make sure every item is included and nothing is left out. This includes items like phone chargers and every little "detail" you can think of!
What do you love most about your floral importers and what do you value most about them?
I order from a number of different wholesalers in New Jersey. They are very quality conscious. They always go above and beyond to get me what I need no matter how big or small an order I have. They consistently give me quality product, what I ask for and need, and what they don't have, they acknowledge and let me know as far in advance as possible by constantly communicating with me! I feel like I have a wholesale husband! My rep texts me in the morning with any updates. It is important to share that I think respecting your wholesale rep is important! I never, ever text him at night. I will email him, but never text!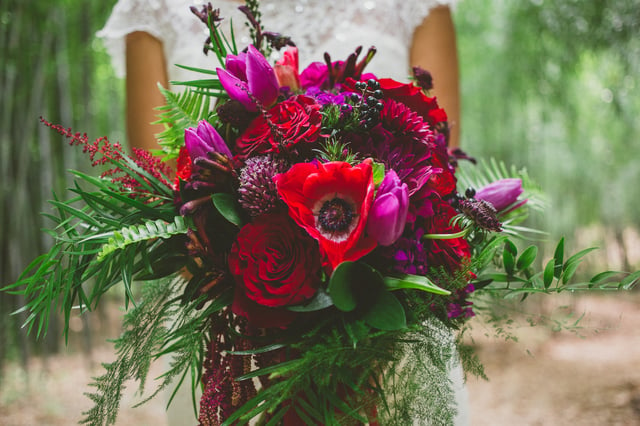 Photo by: http://www.nadyafurnari.com | Instagram @nadyafurnariphoto
What is your biggest business motivator?
Making my brides and my couples incredibly happy! If you think about it, it is the most important day of their lives! You can't mess around with it; I always have more weddings to do, but they don't get another one, so this one is important! Fifty years from now, they will be looking at the pictures with all of my designs and I consider those floral designs as my legacy. To me, I know I will live on through my flowers. Maybe they won't remember me, but the memories and images of flowers will be there forever.
I cannot say enough about Details! I could go on all day! It has been such a game changer for me. I would say that I've probably gotten 80-90% of my proposals signed since I've started working with Details. There have been things that I have thought about as missing from the Details Software or perhpas things I have wanted! Then before I know it Details makes it a new feature! I just love it! I am making more and profiting more. I absolutely love using the cost sheet so I can order everything I need. The recipe PDF for my designers is also amazing!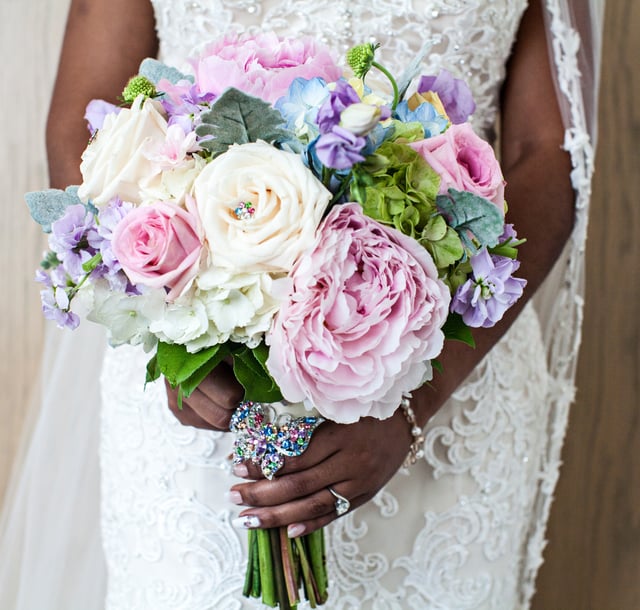 Where do you see your business in 10 years?
You know, I am not sure! I am 51, so I don't know how long I will be doing this but I would like to be doing it for a long time. It's the physical part of the job that is difficult. Maybe I'll have tons of talented people working for me and they could do certain parts of the business, like climb up on the ladders, and I could just design! When it comes to designing for a wedding, there are always certain pieces that I will do every time. My husband and I want to try growing flowers eventually. We would like some land to grow dahlias and peonies. I definitely think I want the business in existence, but delegate tasks more and just keep the designing to myself.
Candice, we can't thank you enough for sharing your story!
It is clear that you have a passion for flowers, but your love for people is truly inspiring! Thank you for all that you do! We are proud to have you as part of our Details Flowers Family. To see more of Candice's gorgeous work, visit her website Duchess Florals.
We love to chat! Join us for some great conversations!
Always Blooming,
--The Details Flowers Team