Who does not love a great florist Facebook group? It is a great place to learn about new techniques, color trends, and the latest and greatest. However, sometimes things might slip through the cracks that just don't seem right. There was that time when flowers in hat boxes were all the rage, but this particular photo of a new bouquet trend did not quite fit the glamour that flowers in hat boxes expressed.
We introduce you to "Bouquet on a Plate." Record scratch. Wait, what? You read that right. At the Details Flowers offices, we are staying savvy by researching floral trends, and this one just happened to pop up a couple times. While some comments remained ever-so-sweet, the majority of the crowd announced a straight-up "OH NO!"
We'd like to hear your thoughts on this? So without further ado, we present to you "Bouquet on a Plate."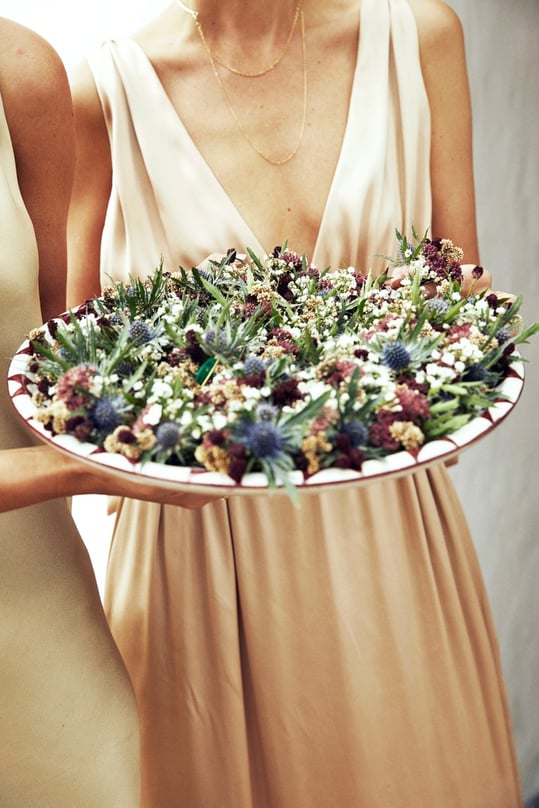 Pernille Teisbaek and Philip Lotko's wedding
Photo: Polina Vinogradova
Did you have a moment to soak that in? Well, we have some good news for you. This floral trend has been debunked! This is not a bouquet on a plate, it is a plate of boutonnieres! Oh internet, you almost fooled us this time.
So you can say "bouquet-it-ain't-so." and fawn over the gorgeous plate of boutonnieres. You can find more fall wedding trends in this blog post from Vogue. Have any fun trends you would like to share? Let us know!
Always Blooming,
--The Details Flowers Team